I haven't posted a book review in a while, but I think now is the time to start posting some more book reviews since this blog is going to become more of  a bookish blog.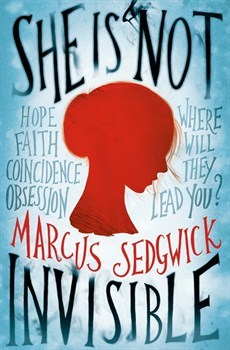 About This Book
Title: She Is Not Invisible

Author: Marcus Sedgwick

Source: Library

Publication Date: October 3rd, 2013

Pages: 354

Blurb: Laureth Peak's father has taught her to look for recurring events, patterns, and numbers – a skill at which she's remarkably talented.

Her secret: she is blind.

But when her father goes missing, Laureth and her 7-year-old brother Benjamin are thrust into a mystery that takes them to New York City where surviving will take all her skill at spotting the amazing, shocking, and sometimes dangerous connections in a world full of darkness.

She Is Not Invisible is an intricate puzzle of a novel that sheds a light on the delicate ties that bind people to each other.
My Review
The best part about this book were the characters. If you are looking for complex, multidimensional and likeable characters, then this is definitely the book for you. Each of the characters is so real and relatable. They also each have their own quirks. In my opinion, character quirks can often hurt a story because they sometimes seem random and just there to be there. However, in this book, the quirks of the characters only enhanced the story. 
First up, we have Laureth. Laureth is resilient, caring and brave. Oh, and she's also blind. Nevertheless, she gathers up her courage and goes on a journey with her brother to find her missing dad. I love characters that take action when others around them are not, so I loved Laureth. Additionally, the way that her blindness was portrayed helped me to better understand blind people.
Next, we have Benjamin, Laureth's little brother. Benjamin is a curious and helpful boy that defends his blind sister when people are nasty to her and tirelessly helps her to navigate her surroundings. He also has a…condition (I won't spoil it for you) that adds a little bit of humor to the book. And of course, it's also cute to see how much he loves his raven stuffed animal, Stan.
Finally, we have Laureth's father, Mr.Peak. Laureth's father is an author who went missing while he was on a research trip for his next book, which he planned to be about coincidences. I loved that details about a writer's job were infused into the story, and it made the book really entertaining to read since I also love to write. It was also interesting to read the juicy tidbits and theories about coincidences that also played a huge role in the book.
However, while the book's cast was stellar, the plot majorly fell short. Throughout the book Laureth and Benjamin look for their father by gathering clues from his notebook and following them to move from place to place, looking for him. On the way, they encounter many creepy coincidences and meet danger. It was actually very suspenseful, which led me to believe that the ending would be stunning and shocking. Instead, the ending was rather anticlimatic. I felt cheated. So much suspense was built up for not much happening. I liked the morals that came about as a result of the plot, but there probably could have been a better way to lead up to these morals.
Overall, this was still a pretty good book, even though it might have lacked plotwise.
My Rating